Analog Extracts
Original, raw analog sounds.
VST Plugin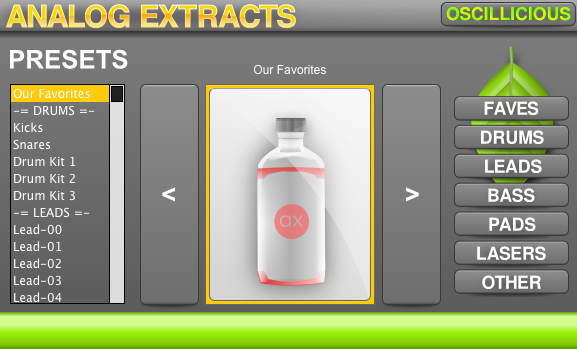 Analog Extracts is a sample pack with 100% original, freshly squeezed analog synth sounds. Have a listen:
These samples just sound different. Through a series of wild jam sessions, we've managed to create a range of sounds you've never quite heard before, and we're proud to offer these analog modular sounds exclusively through Oscillicious.
---
Exclusive Bonus: VST and AU Plug-in
Analog Extracts includes a bonus VST and Audio Units plug-in that instantly transforms each sample into an instrument mapped to the entire keyboard. The built-in preset browser lets you preview and audition each sample quickly. Compatible with any VST or AU host, no sampler required.
---
Full Feature List
227 pure analog WAVE samples, carefully curated and tweaked to perfection, including:

32 bass sounds
13 gritty pad sounds
63 of the most original, analog laser sounds you've ever heard
28 synth lead sounds
28 other assorted synth sounds

Analog drum samples:

35 snapping snare sounds
28 analog drum kicks

91 megabytes of industry-standard WAVE samples (16-bit, 44.1 KHz stereo)
Bonus VST and AU plug-in - 32 and 64-bit!

Includes presets for each individual bass, lead, laser, pads, kicks, snares, and several drum kits.
Windows: VST plug-in requires Windows XP
Note: Mac OS X support was discontinued in August 2019. Downloads for the Mac version of Analog Extracts (32/64 bit VST and AU plugins) are provided for existing customers only.