BeatCleaver
An Audio Editor for Sampling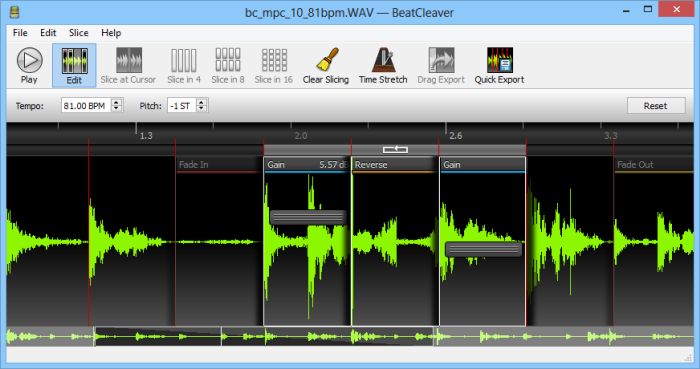 BeatCleaver is an audio editor and beat slicer for quickly sampling, chopping and editing songs, beats, and recordings.
Quick Audio Cutting
Less clicks, more cuts. Chop up samples and beats quickly, and drag-and-drop your edits right into your DAW.
Time Stretching
Slow down the tempo without changing the pitch of your samples. Streamline your sample-based music production workflow with BeatCleaver.
Read more about time-stretching with BeatCleaver
.
Realtime Audio Editing
Doing audio surgery with BeatCleaver is quick and painless. With a unique "toolless" design, every effect is just a right-click away. Editing is as easy as highlighting some audio, applying an effect, and tweaking it. And with the RapidEdit™ engine, you get instant, tweakable results so you never have to backtrack or wait for it to render.
Read more about audio editing with BeatCleaver
.
Bonus Deal
: Now get JamDeck for FREE when you buy BeatCleaver!
(You'll receive JamDeck by email after purchasing BeatCleaver.)
Features
Slice any loop into 4, 8, 16, 32, or 64 slices
Slice by beat or by bars (Advanced Slicing)
Chopping on-the-fly (tap the S key during playback)
Save/load custom slice templates
Slice to MIDI
One-Click Quick Export (saves all slices as WAVE)
Drag Export (drag slices straight to your desktop, a folder, or your DAW)
Save Slice Markers to MIDI (for groove extraction)
Real-time audio editing: Fade in/out, normalize, reverse, trim, amplify, and duplicate sections
Supported audio format (reading): MP3, WAVE, M4A, WMA*, AIFF, FLAC
Saving to WAVE, AIFF
Unlimited undo/redo
Samplerate and bit-depth conversion - Convert audio to 11.2 kHz, 22.5 kHz, 44.1 kHz, 48 kHz, 96 kHz, and 192 kHz samplerates. Convert audio to 8-bit, 16-bit, 24-bit, and 32-bit bit depths.
* MP3 and M4A support requires Windows 7 (or greater). WMA support only available on Windows 7 and greater.
Read the full feature list here
.
---
Note: Mac OS X support was discontinued in August 2019. Downloads for the Mac version of BeatCleaver (Mac OS X 10.6+) are provided for existing customers only.