SodaSynth
A pristine, mellow synth. Easy to layer, easy to mix.
VST Plugin VST/AU Synthesizer Plug-in for Windows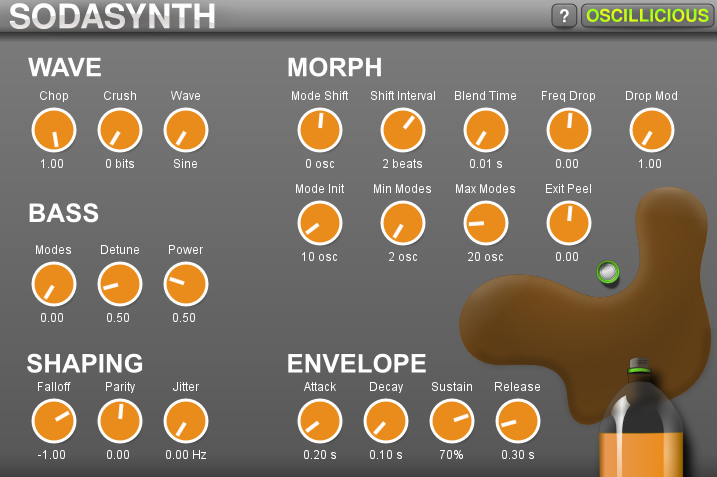 From warm leads to shimmering pads and deep bass, listen to some of SodaSynth's classic sounds:
Bring new life to classic sounds.
SodaSynth is a synthesizer plug-in designed to give artists clean sounds that fit easily into tracks.
Starting with an ensemble of oscillators, SodaSynth smoothly adds or subtracts harmonics while modulating the frequencies of these new components in novel ways. The results are mellow harmonies that sound familiar, yet can morph in new ways.
Features
Unique spectral morphing algorithm to evolve sounds
5 classic waveforms, up to 32 oscillators per note
Includes 37 built-in synth presets
Full 8-note polyphony and an ADSR envelope
Light as a feather - Loads in an instant and goes easy on your RAM.
Easy-access help menu puts all the documentation at your fingertips.
No DRM! - No product activation, authorization, soul-eating "service center", or obnoxious in-your-face copy protection. If you buy it, it's yours!
Compatible with Logic Pro, Ableton Live, GarageBand, Cubase, Renoise, energyXT2, and other VST or AU hosts
Clean VSTi/AU plug-in synth instrument
(Shape your own sound!)
Available for Windows
Includes both 32-bit and 64-bit VST version
Note: Mac OS X support was discontinued in August 2019. Downloads for the Mac version of SodaSynth (32/64 bit VST and AU plugins) are provided for existing customers only.